I recently came across The Waffle Book Tag by Kat from Novels and Waffles and the tag was so scrumptious, I knew I had to do it! So here are some book recommendations inspired by, and to go with delicious waffle flavors.
1984
1984 is a story set in a dystopian land, about a man who is not alright with the facts about world told by the government. It's about censorship, distortion of facts by authorities and privacy of an individual/ No wonder it has been banned so often by authorities. The fact that George Orwell wrote it in 1949 and how relevant it is rapidly becoming in today's day and age, considering the current political climate around the world, is absolutely mind blowing.
P.S. I Like You by Kasie West
Kasie West's novels are my go to books when I am craving some cutesy feels. And my favorite Kasie West novel is P.S. I Like You. Consisting of an aspiring songwriter, hate to love trope and well explored family dynamics, it is a great feel-good book if you are in the mood for one. (You can read my full review of the book here!)
The Lunar Chronicles by Marissa Meyer
I don't know what Eggo Waffles are so I can't exactly say they fill me with nostalgia. But Cinder and whole of The Lunar Chronicles, for that matter, makes me super nostalgic. Fairytales were a huge part of my childhood. I loved watching the disney princess movies, and to read a whole series filled with badass heroines based on these fairytales that too with a sci-fi twist makes my inner 10 year old very happy.
Molly Weasley from The Harry Potter Series
This was a tough one. There's no character which came to mind that I could definitely call sugary sweet. But as I looked through my read books shelf on Goodreads I kept going back to Mrs. Weasley. So that's who I am going with. There's nothing more sweet than a mother's love and Mrs. Weasley is the fiercest mother hen of them all. Even with seven children of her own, she was one of the most motherly figure Harry had in his life, with Professor McGonagal perhaps being the only other one.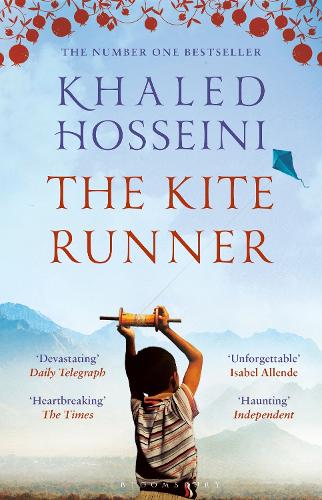 The Kite Runner by Khaled Hosseini
The Kite Runner is one book that immediately comes to my mind when I read this tag. The story recounts the life of Amir, from his childhood in the war facing lands of Afghanistan with his friend Hasan, to his life in America as an adult. The one thing to know about The Kite Runner is that there is no happy ending, only the stopping of the story. Or at the very least, that's how it felt to me. Khaled Hossini's writing is absolutely brilliant though. And be warned, this book will break your heart a thousand times over. Also, trigger warnings- Child sexual abuse, suicide, execution style murder, all fairly graphic.
Miss Peregrine's Home for Peculiar Children by Ransom Riggs
This is one of the books that is as different as it can get. The story follows Jacob and a bunch of peculiar children with extraordinary powers as they try to escape from people hunting the children. It features time travel, super natural powers and much more. The best thing about the book are the accompanying photos. They take the story to another dimension altogether and make for a highly engaging reading experience.
Percy Jackson and the Olympians by Rick Riordan
I have read the Percy Jackson Series, it's sequel series and it's spin off series. And will definitely read more if and when Rick Riordan writes it. The series follows Percy Jackson, a modern day greek demigod as he tries to escape everyone who wants to kill him (the list is quite long) and the ever obscure prophecies. HIGHLY recommended if you like greek mythology.
Bookmarks!
Bookmarks are what prevents people from dog marking pages and becoming monsters. And they are pretty to look at too. There's an enormous amount of variety available all over the internet so you can choose what you like. Or make your own if you want. So people, always use bookmarks.
And now I really want to eat a waffle! Do you like waffles? Which books would feature on your list? Share in the comments!
Cheers,