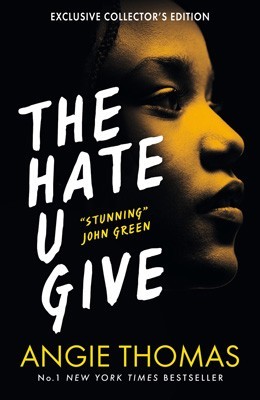 Published by Walker Books
Genre – Young Adult, Contemporary
Sixteen-year-old Starr Carter moves between two worlds: the poor neighborhood where she lives and the fancy suburban prep school she attends. The uneasy balance between these worlds is shattered when Starr witnesses the fatal shooting of her childhood best friend Khalil at the hands of a police officer. Khalil was unarmed.
Soon afterward, his death is a national headline. Some are calling him a thug, maybe even a drug dealer and a gangbanger. Protesters are taking to the streets in Khalil's name. Some cops and the local drug lord try to intimidate Starr and her family. What everyone wants to know is: what really went down that night? And the only person alive who can answer that is Starr.
But what Starr does or does not say could upend her community. It could also endanger her life.
I read The Absolutely True Diary of a Part-Time Indian as the book of the month for The Banned Books Club started by Shruti from This is Lit. You can find all about the club here.
Review
I had seen The Hate U give all around the social media earlier so I was very excited to read it and as a result, had high expectations from the book. It is a very important book about racism written in the first person from Starr's point of view.
This review was hard to write since the book left me at a loss of words but the message of the book needs to be spread wide and across.
Here's what I though:
First of all, I think that a trigger warning is in order for the book with respect to Domestic violence, racism, gun violence since these form a core part of the book.
The whole carter family played an important role in the story and I loved their inter-relationships and family dynamics. My favorite character was probably Starr's dad.

The story was well paced with not much room for plot twists.

One of the things I loved was that Starr is a realistic and relatable main character. She didn't magically become the face of a movement or overnight turn into someone who could lead it if, at all, after her friend died. She is after all, a sixteen year old teenager.

– Angie Thomas, The Hate U Give

The ending was different than what I'd expected. It was like the last part of a carnival ride when you know the ride is ending because it's slowing down… down… and stop. I wish it'd ended on a more powerful note.

It was easy to forget that the book is set in recent modern times until words like Instagram and Tumblr popped up now and then. The book shows the lack of awareness of how deeply rooted racism still is. And that we still have a long way to go before we can live in a world where #blacklivesmatter is not needed.

The writing is brilliant. I felt a roller coaster of emotions including anger, grief, joy along with the characters. It's one of the books that can motivate you, help you grieve and empower you all in one.
If you think that you can get through the triggers then I highly encourage you to pick it up and read the THUG out of it.
Cheers,
Instagram || Goodreads ||Twitter || Facebook