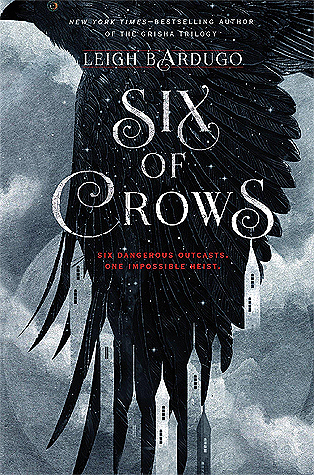 Published by Henry Holt and Company
Genre – Fantasy, Young Adult
Buy on Amazon.in
Ketterdam: a bustling hub of international trade where anything can be had for the right price–and no one knows that better than criminal prodigy Kaz Brekker. Kaz is offered a chance at a deadly heist that could make him rich beyond his wildest dreams. But he can't pull it off alone…A convict with a thirst for revenge.
A sharpshooter who can't walk away from a wager.
A runaway with a privileged past.
A spy known as the Wraith.
A Heartrender using her magic to survive the slums.
A thief with a gift for unlikely escapes.
Six dangerous outcasts. One impossible heist. Kaz's crew is the only thing that might stand between the world and destruction—if they don't kill each other first.
Review
Six of Crows is a name I'd heard and seen many times before on the world wide web. Reading the back cover, I'd an inkling I would like it. But that was… WOW. The book is written in third person from the point of view of the Six Crows except for the first and last chapter.
What I Thought:
Not having read the previous works of Leigh Bardugo, I wasn't familiar with the Grishaverse. This made all the foreign words I couldn't pronounce in my head look like roadblocks. But they vanished quickly as I read further. And on that note, you can absolutely read the book even if you haven't read the Shadow and Bone trilogy

and

enjoy it. I know I did.

So many feels from the start. And so many ships on the ship: Inej-Kaz, Nina-Matthias and Jesper-Wylan too! My personal favorite was Nina and Matthias.

I found the quote No mourners no funerals to be quiet morbid and before I read the book, I always wondered why would someone say it. As it turns out, it's to wish people good luck. Still don't understand why to be honest.

Kaz reminded me a little of Sherlock with all the withholding o information and what not. Except for the fact that rather then having Watson as a sidekick he had his band of merry men (and women).

– Leigh Bardugo, Six of Crows

From two non-heterosexual crows to limping protagonist to more than one principal characters of color, the book was big on representation! The characters were very diverse not just in Grisha terms but otherwise as well.

All the characters behaved in such an adult-y manner that it was hard to picture them in their teens. The ages of the leads range from sixteen to eighteen. From all their adventures, I would've thought them to be at least in their early twenties if their age wasn't mentioned in the book.

I loved the world building in the book. It amazes me how the author came up with the smallest of details about the whole Grishaverse.

Fair warning though, the book contains a few gory scenes. More so than you'd usually find in a young adult book.
Six of Crows blew my mind away and I can't recommend the book enough. Also cannot wait to get my hands on Crooked Kingdom, the sequel to this enthralling fantasy novel.
Did you feel about it the same way as I did? Share in the comments!
Cheers,
Instagram || Goodreads ||Twitter || Facebook
This post contains affiliate links, which means if you make a purchase by clicking on one of my links, I will receive a small commission, at no additional cost to you, that will help me continue to bring you valuable content. Thanks for supporting Knitted Pages! 🙂